your
excellence
provider
Yachts and cruising yachts, cruise ships, villas, luxury hotels and starred restaurants.
No matter where you are, we'll get there to give you what you want with our timely, customized, and impeccable service.
We have plenty of experience and a solid network of local partners and collaborators, so we can offer the excellence you're looking for and competently and professionally satisfy your every need, with passion and an attention to detail.
We can satisfy any request!
We search for the best that our beautiful country has to offer and can stock up the pantry of your yacht or villa with local and international excellence, fresh raw ingredients of the highest quality, fine foods, champagne, and the most prestigious wines and spirits, plus provide you with international magazines, technical equipment, and luxury hospitality products. We can also satisfy your desire for fun with exclusive water toys and support you in solving any technical problems with the best professionals, equipment, and nautical spare parts.
Give us the go ahead and we'll be there !
Our operational headquarters are in Riposto, you can also find us in the main marinas of Sicily and Malta, and we feature throughout the area.
Why choose us?
know how
We have turned over twenty years of experience in the provisions sector, Food & Beverages service, large-scale distribution, and as a Luxury buyer and business developer, into a reliable, structured company with a deep knowledge of the sea and area, consolidated relationships with local and national partners, and the ability to meet the high standards of the luxury sector and work with international customers.
safety
Through a transparent, controlled, and certified supply chain, we guarantee the traceability, freshness and highest quality of the products supplied.
Thanks to our fleet of refrigerated vehicles, we guarantee maximum food safety with the continuity of the cold chain for perishable goods and medicines.
efficiency
We are available 24/7 and are always ready to meet your needs. Whether you're out on the open sea or in an exclusive villa on the slopes of Etna, we'll get there and be ready with the best customer solution: excellent supplies, equipment for sports, fun and leisure, or spare parts.
We guarantee we can successfully meet even the most difficult requests.
sustanaibility
Those who love the sea respect it, which is why, as true lovers of the sea, we pay particular attention to the environmental impact of our services. For our deliveries we use sustainable, biodegradable, compostable, and plastic-free materials, focusing on the possibility of recycling and zero waste from the boat with a significant reduction in disposal costs.
Our pluses
Efficient Ordering & Delivery
Guaranteed Success
Fresh and Locally Sourced Food
No Packing or Waste Disposal Costs
Our team
Piero Cardillo
Purchasing Manager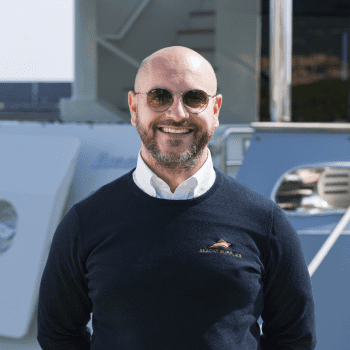 Vincenzo Salafia
Driver
Enjoy
our Sicily
Live your best Sicilian experience thanks to our specialized supplies and tailor-made services.
Download our company book to discover more